vegetarian
gluten free
low carb
Ingredients (for approx. 30 cookies):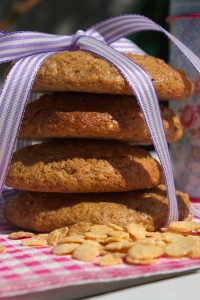 50 g raisins
80 ml boiling water
120 ml coconut oil (cold pressed)
1 egg
300 g Biosüße
1 tsp. molasses
120 g protein powder vanilla
155 g almond flour
100 g soya flakes
2 tsp. baking powder
1 tsp. salt
¾ tsp. cinnamon
60 g walnuts, chopped
Preparation:
Heat up the oven at 140° C. Pour boiling water over the raisins and let them soak for approx. 5 minutes.
Whip coconut oil, Biosüße, and molasses with a mixer until everything is dissolved perfectly.
Blend raisins and water with the hand-held mixer and fold it into the coconut oil mixture.
Mix protein powder, almond flour, soya flakes, baking powder, salt, and cinnamon in a separate bowl. Fold in the fluid mixture and knead well. Finally put in the chopped walnuts.
Form with two small spoons little balls and place them on a baking tray with baking paper. Squeeze them flat and take care of some space between the pieces as they will spread.
Bake the approx. 18 minutes until they become brown at the edge. Take care that you don't leave them too long in the oven as they become tough.